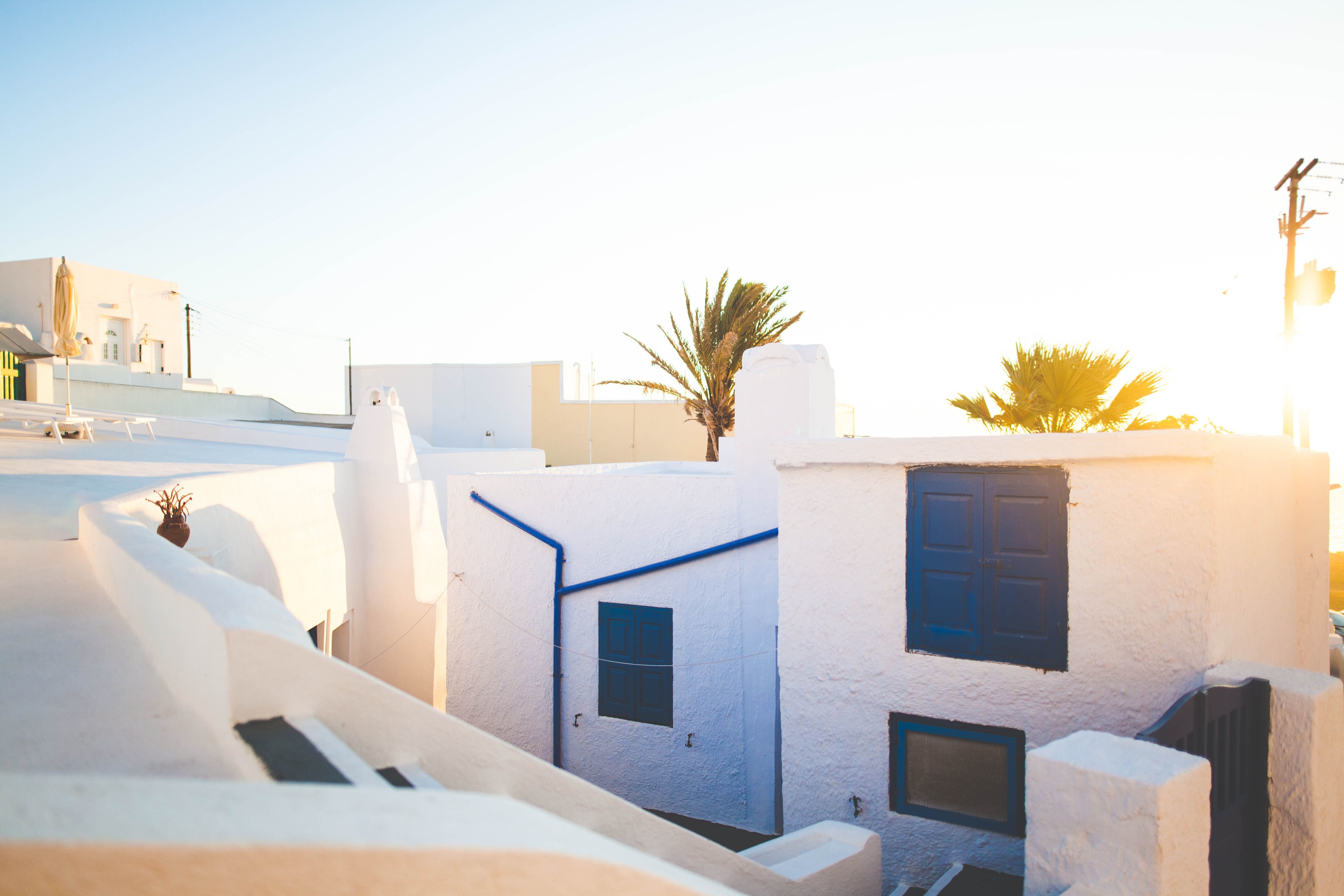 You have probably seen the pictures before. Clean white Mediterranean architecture capped off with crisp blue details and all set against a vibrant background of blue sky and water. It is the picture of seaside paradise. It is no wonder that everyone wants to experience a relaxing holiday in Santorini, Greece.
Santorini History and Background
Santorini sits on one of the many volcanic islands in the Aegean Sea. The distinctive landscape of sheer cliffs which most people associate with this area is the result of volcanic activity that took place hundreds of years ago.
These days the island makes up a shape a bit like a crescent and surrounds a caldera. The island's capital is in Fira. Most travelers head here for the picturesque whitewashed architecture and incomparable views.
What to Do
Santorini has developed a reputation as one of the most romantic destinations in the world and is a leading honeymoon destination. However, there is much more to explore in Santorini beyond romance.
Many travelers appreciate the food and wine scene here. The climate on this island is particularly conducive to producing admirable wines. Most local varieties are white, ranging from crisp whites to fruity dessert varietals. Pair these with samplings of the flavourful local cuisine and you might be in foodie heaven. For added fun, consider taking a cooking class.
Of course, with such stunning scenery, it is imperative to get outside and explore as well. There are plenty of walks and hikes around the island. The most popular of these will take you around the edge of the caldera. Whether you keep you walking to strolls through the quaint whitewashed streets or you take the more strenuous trails further afield, you won't want to miss planning at least one walk at sunset.
You can also head out to sea. While those gorgeous blue views are great from land, they are even better up close. Take a catamaran tour, head out in kayaks or simply hit the enticing beaches.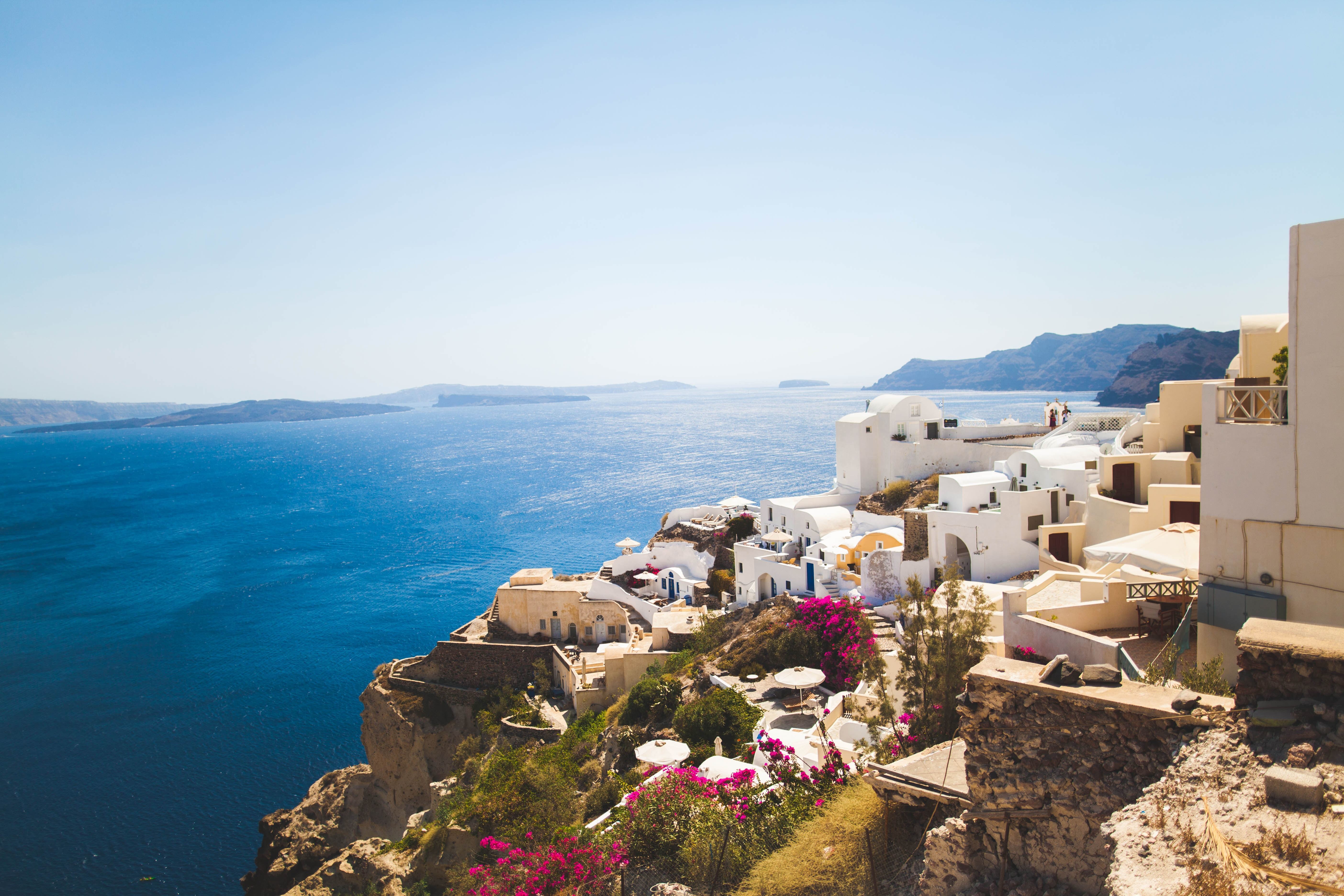 Where to Stay
Most people visiting Santorini tend to stick around Fira or one of the two neighboring villages, Imerovigli and Firostefani. Another popular option is the village of Oia. Each of these has the benefit of being on the caldera edge and thus providing an abundance of breathtaking views.
That said, these areas are unsurprisingly more geared to higher-end hotels catering to people on romantic getaways and higher budgets. However, the creative traveler should be able to find discount hotels or one of the few hostels. Camping outside of Fira is also an option. Apartment share sites might offer additional solutions, especially for those traveling with a group.
For those on a stricter budget, there are villages further afield. While these other areas don't offer the same stunning views as those on the caldera's edge, they nevertheless have plenty to offer for those seeking a relaxing beach holiday. What's more, they can be much more affordable, particularly during the low seasons.
Useful Information
Santorini is a Greek island and, as such, the local language is Greek. However, most travelers should be able to get by with English.
The island enjoys a Mediterranean climate and is generally pleasant year-round. However, the traditional summer months of July and August tend to have the most visitors. To avoid the crowds, try visiting during the shoulder seasons in spring or fall.
Santorini is reached by ferry from Athens, Crete, and a few other Greek cities. The island also has a small airport which welcomes flights from Athens. Direct flights from other European cities are available during the high season. Flights from Athens take about forty-five minutes, whereas a ferry journey will take from five to eight hours.