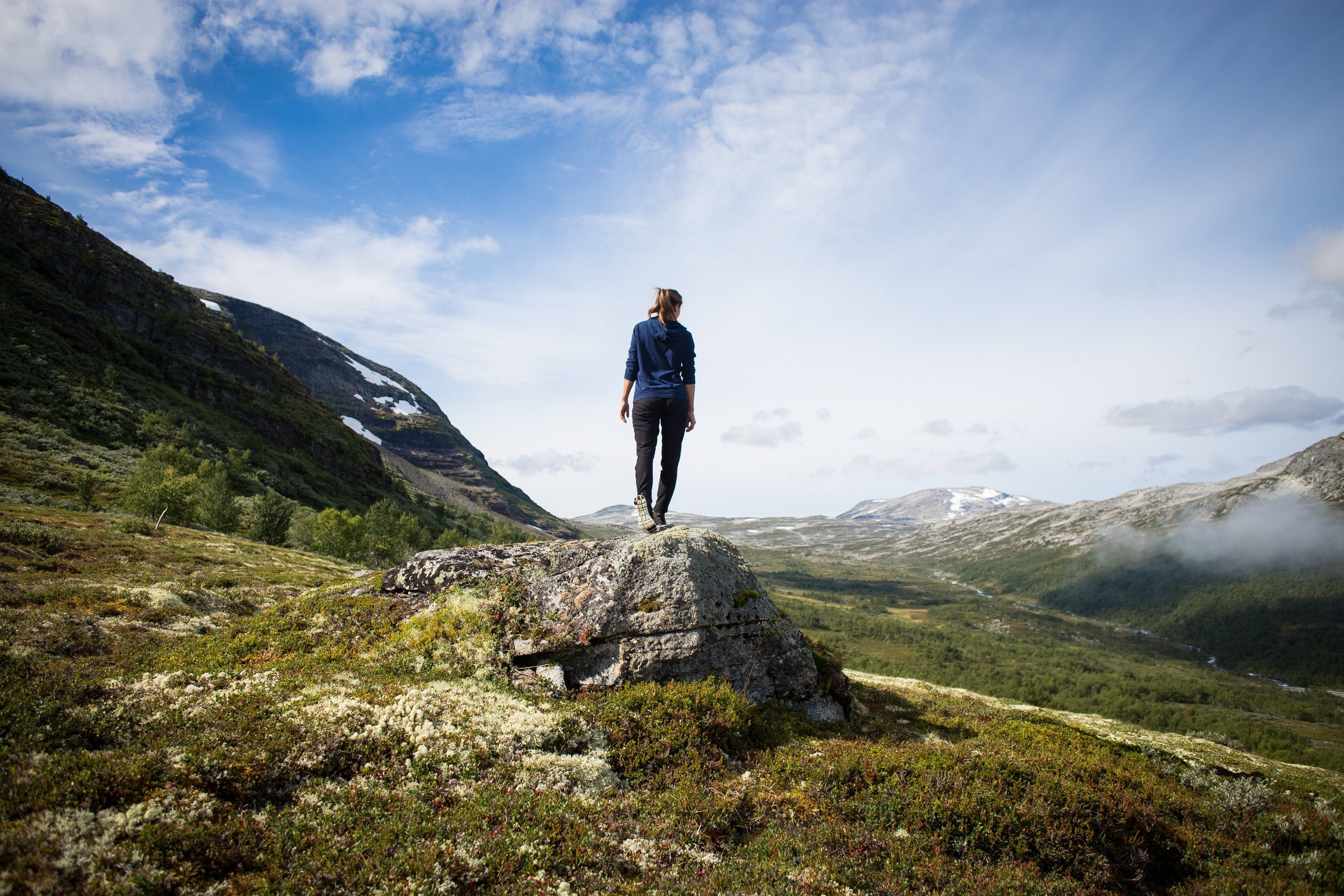 Norway's stunning scenery, forged by centuries of glacial traffic, is often considered the country's most prized feature. Many backpackers content themselves with a mere day cruise through the fjords. Yet this misses the depth of natural beauty there for the offering. For a truly authentic taste of Norway, head out for some hiking and trekking on these trails.
Reinebring Duration: 2-3 hoursLocation: Reine
Backpackers on a tight schedule will appreciate this quick taste of Nordic nature. With the exception of a steep scramble near the summit, much of this trail is comfortable and scenic. Those who summit will enjoy sweeping views of the Reinefjorden, Kjerkfjorden and much more.
Besseggen RidgeDuration: 5-7 hoursLocation: Gjendesheim Hut
If you are looking for views of Northern Europe's highest and most awe-inspiring mountains, the trails at Besseggen Ridge might be for you. This easy day hike meanders along the ridge which separates Gjende and Bessvatnet glacial lakes.
RomsdalseggenDuration: 5-8 hoursLocation: Romsdalsfjellene mountains
For a day hike among the majestic Romsdalsfjellene mountains, head out to these stunning trails. From the trail summit, you can see across the mountain range and even as far as the Norwegian Sea.
TrolltungaDuration: 12 hoursLocation: Hardanger
If you have researched Norway at all, there is a good chance you have seen those iconic photos of backpackers sitting on the edge of a jutting rock as it hangs suspended over a spectacular fjord. Those pictures are what make Trolltunga one of the most popular and most beautiful hikes in the region.
KeipenDuration: 8-10 hoursLocation: Geiranger
Where can you go when you want to combine a challenging hike, quiet solitude, and UNESCO World Heritage worthy scenery? The Keipen trails around the Geirangerfjord offer all of these things and much more. While the trails can be challenging at times, the panoramic views make it worth the effort.
GaldhøpiggenDuration: 1 DayLocation: Jutunheimen National Park
The highest mountain in Northern Europe has two main trails by which to access the summit. Starting from Juvashytta requires covering a shorter distance but may be a more technical hike over the Styggebreen Glacier. If your technical skills aren't up to snuff, try the trail leaving from Spiterstulen hut. The Spiterstulen route is a direct 1400 meter climb. Regardless of the direction you take, neither route requires extensive technical skill and the summit can be reached by anyone with a decent level of fitness. There are also two additional routes which are less popular.
KnivskjelloddenDuration: 2 daysLocation: Northern Norway
For backpackers who enjoy noting extremes, the Knivskjellodden trail is Europe's northernmost trail. While it can be difficult to access this trail and there may be more reindeer than people, no adventure traveler can miss this unique opportunity to explore the far north. While this trail requires no technical skill and is not especially difficult, be prepared for rocky terrain. It is recommended to camp at the trail midpoint, so backpackers should come prepared for the elements. Naturally, you will want to plan this hike for the summer months. During this season you will find the most favorable weather and enjoy the sun that never sets.
HardangerviddaDuration: 7-12 daysLocation: multiple
Heading in the opposite direction, longer term trekkers can experience a trek across the Hardangervidda. This trek does require a longer time commitment. Covering a territory larger than Yellowstone National Park in the US, most trekkers will spend a bit more than a week here. However, this trek offers the best opportunity to explore Norway's varied terrain and encounter wildlife. You may even get to watch a herd of reindeer.