To celebrate the warmer weather we were finally having, and kick off summer 2017, me and my friends, Amy and Sam, planned a 5-day adventure around BC's west coast that we oh-so-cleverly called "Chasing Waterfalls 2017". Our list included some of the tallest waterfalls in Canada, some cascading falls, and a full tank of gas.
Sam and I planned to head to westward from Calgary on the Tuesday, stopping over in Kamloops to pick Amy up and continuing to Vancouver via Highway 99 on Wednesday. Everything went mostly according to plan, safe for a significant detour via Highway 1 thanks to a wrong turn in Cache Creek. Regardless, we arrived in Vancouver on Wednesday night looking forward to a good night's sleep and the next 4 days of adventure.
On Thursday, we headed to Chilliwack for Bridal Veil Falls Provincial Park, and were trying not to let the rain get our spirits down. Luckily for us, as we pulled into the parking lot we realized it had completely cleared up - clear skies are few an far between at this time of year so we were feeling very grateful!
The short jaunt to the falls was fairly easy, a family-friendly hike for certain but that shouldn't deter the more adventurous hikers as what it lacks in challenging terrain, it definitely makes up for in beauty.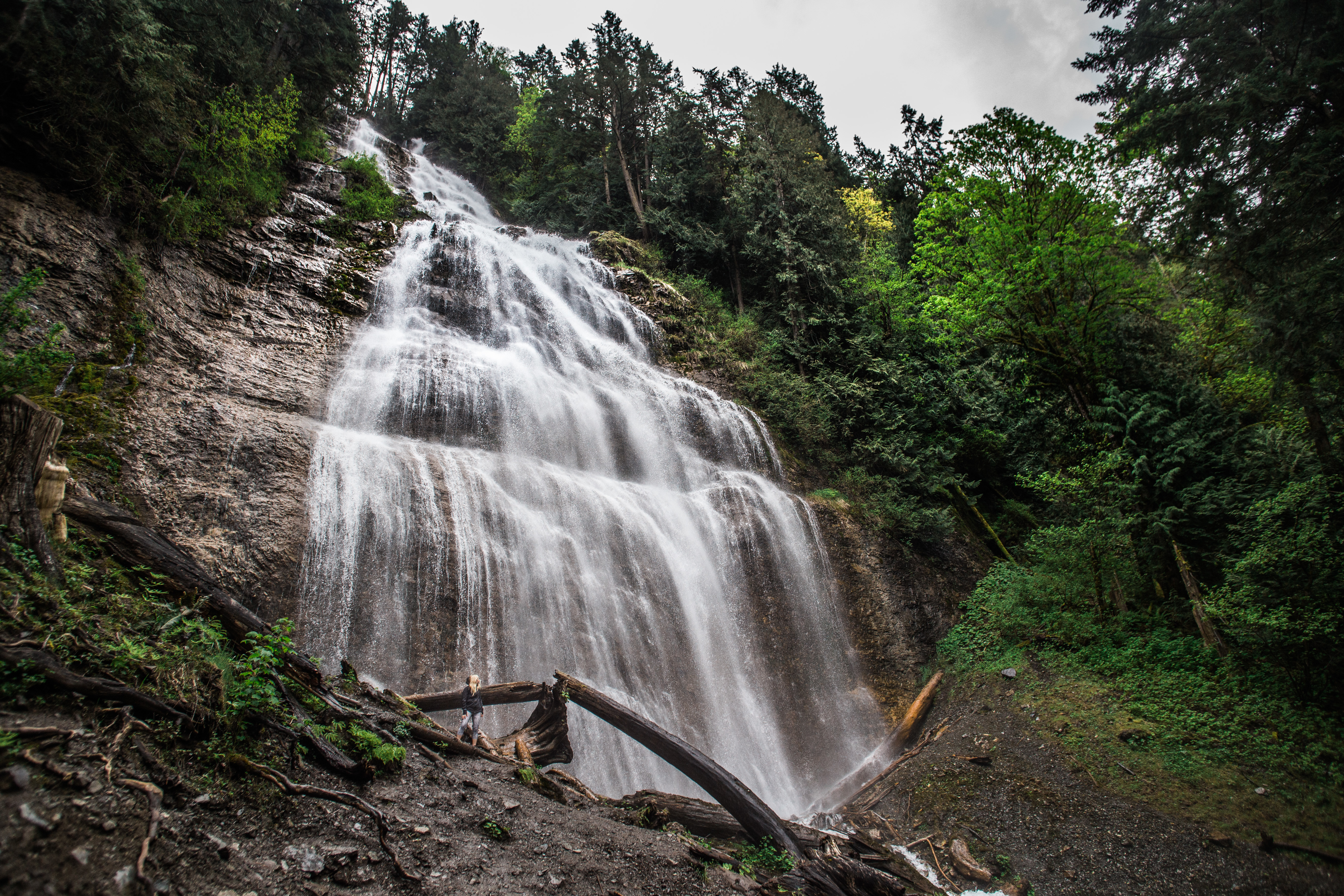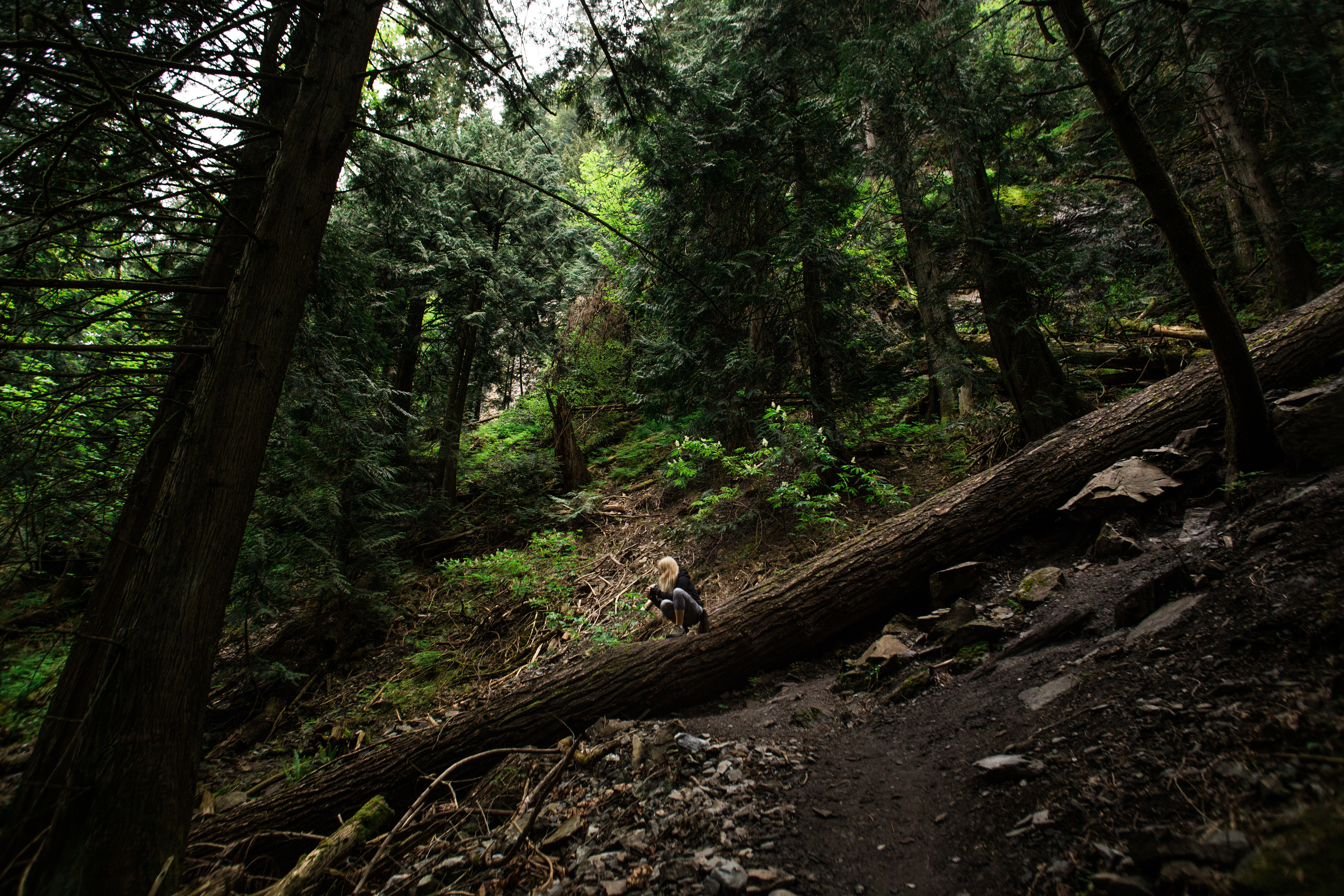 We spent the remainder of the evening catching up with our friend Elise, who is living in Vancouver, and took advantage of our last hot shower the following morning before hitting the dirt trails once again. We managed to hit 2 waterfalls on Friday: Gold Creek and Norvan. Gold Creek was so lush, we were fully immersed in redwoods and moss as we trotted along the creekside. The walk was a steady climb of about 2.5 kms before we reached the wild, rushing falls. The spray was so strong it reached us over 50 m from the mouth. Not even for a second was I worried about the fact that I was being drenched by the spray, that mist is easily one of my favourite feelings; its so exhilarating and refreshing.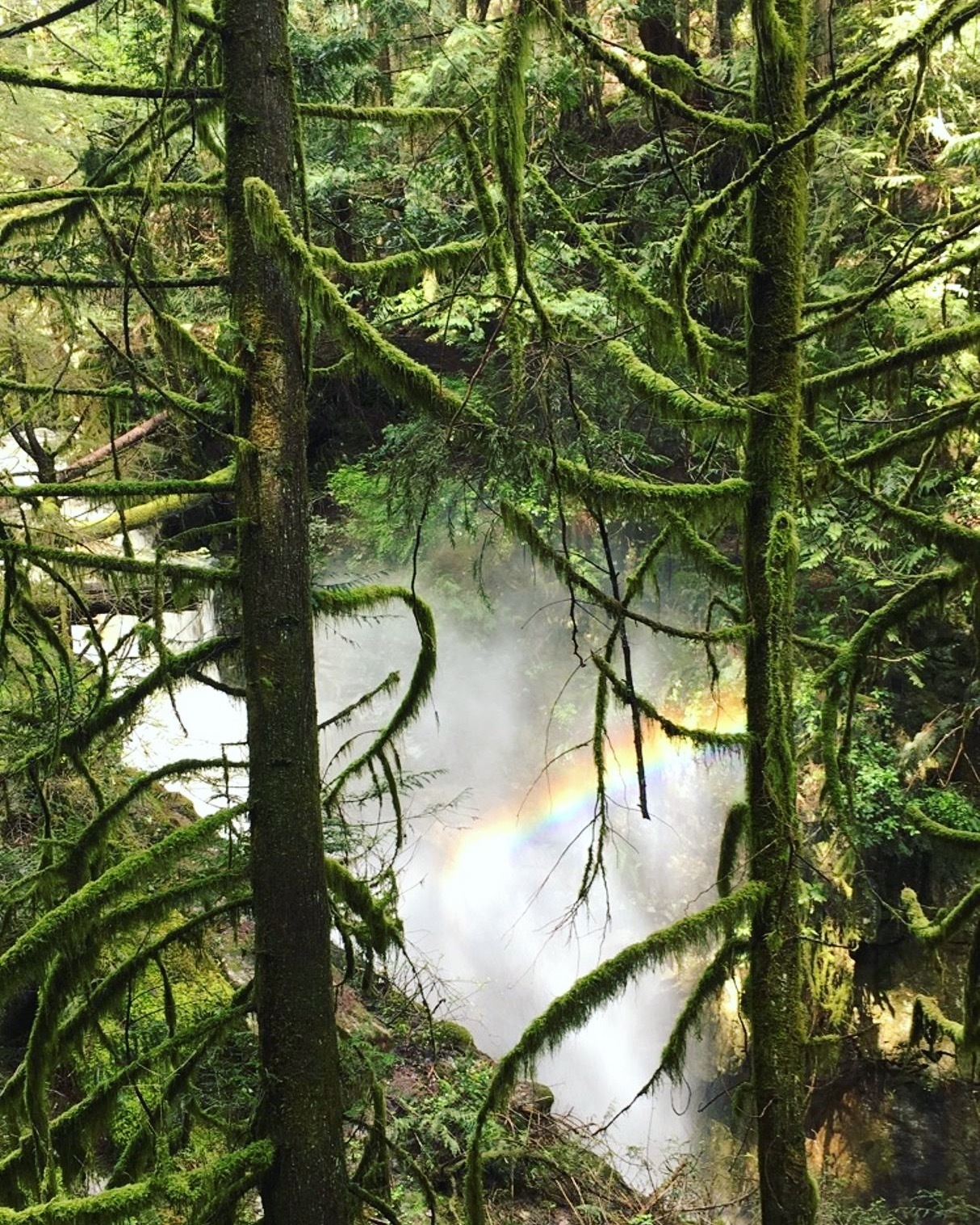 Norvan Falls was so complementary to Gold Creek, less aggressive but much taller, it offered the perfect amount of spray for rainbows to form anywhere the sun could refract through the prisms of water in the narrow canyon. To get the best view, you can scramble over the roots and ferns to the edge of the cliff. While this path is worthwhile for both the scenery and the adrenaline rush, it's possible to keep this hike family friendly and use the wooden viewing deck a little ways up the trail.
We called it a day a little early as we had to drop Elise off in Richmond and make our way to Squamish Valley during daylight to give us time to set up camp. We were lucky to find a very quiet spot without neighbours, where we could have a fire, listen to music, or talk about the previous days' adventures as loudly as we pleased.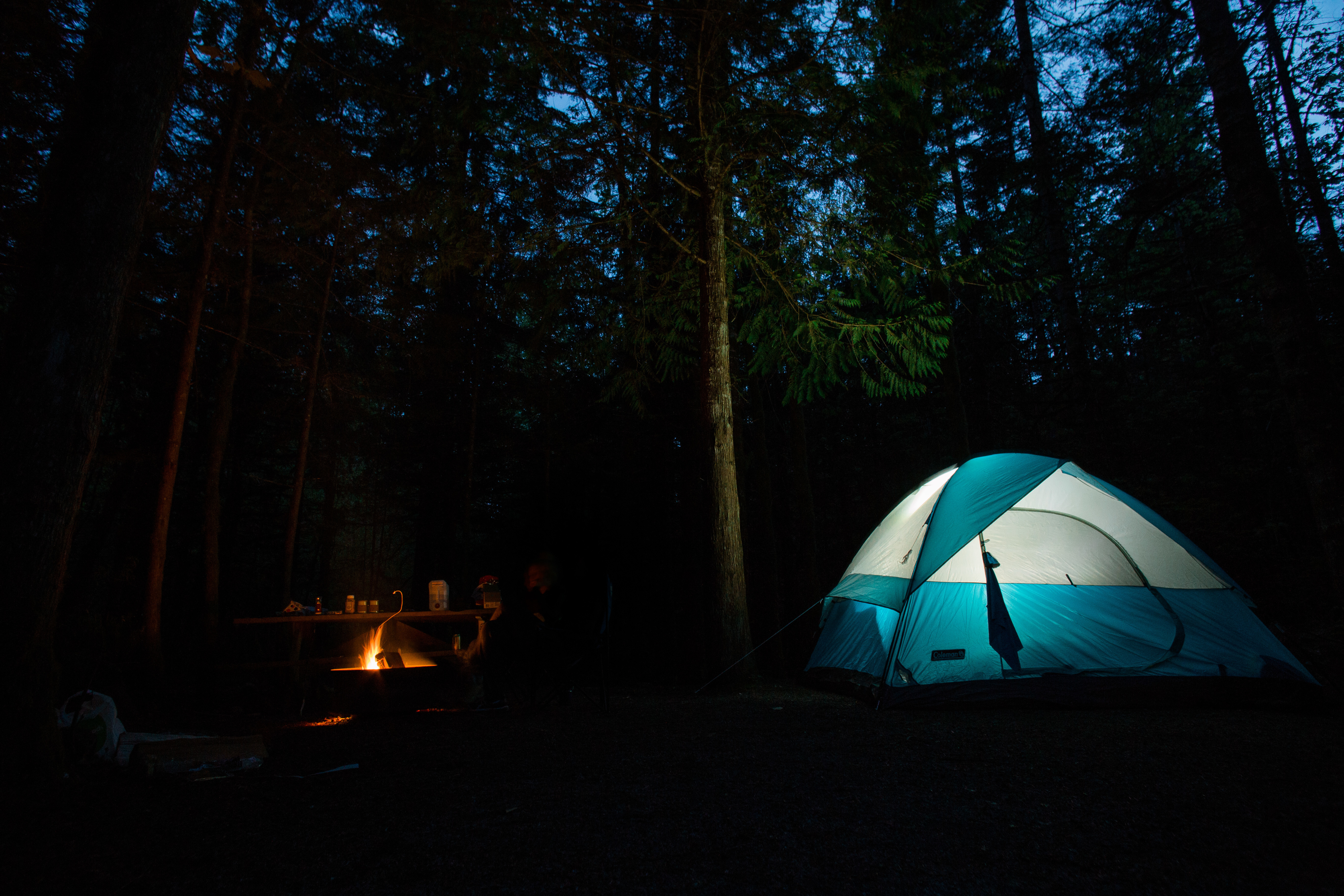 Our Squamish area hikes kicked off in Pemberton, at Nairn Falls. The change in ecology was so apparent now that we were no longer on the pacific coast. The mossy greenery we had grown accustomed to was replaced by dry pines and yellowed grass. Beautiful in a different way, this hike travelled along a river, over dirt paths that were occasionally replaced by expanse areas of nothing but rock, all the way to a mid-sized waterfall working its way through the surrounding rock faces. While not incredibly tall, the waterfall was so strong it seemed almost angry, the roaring sound of the water almost deafening. We speculated for a while at how crazy you'd have to be to get any closer than we had, as we peered over at a few adrenaline junkies climbing the rocks to get up close and personal with this force of nature. I was grateful to view this one from afar, as it was gorgeous and terrifying all at the same time.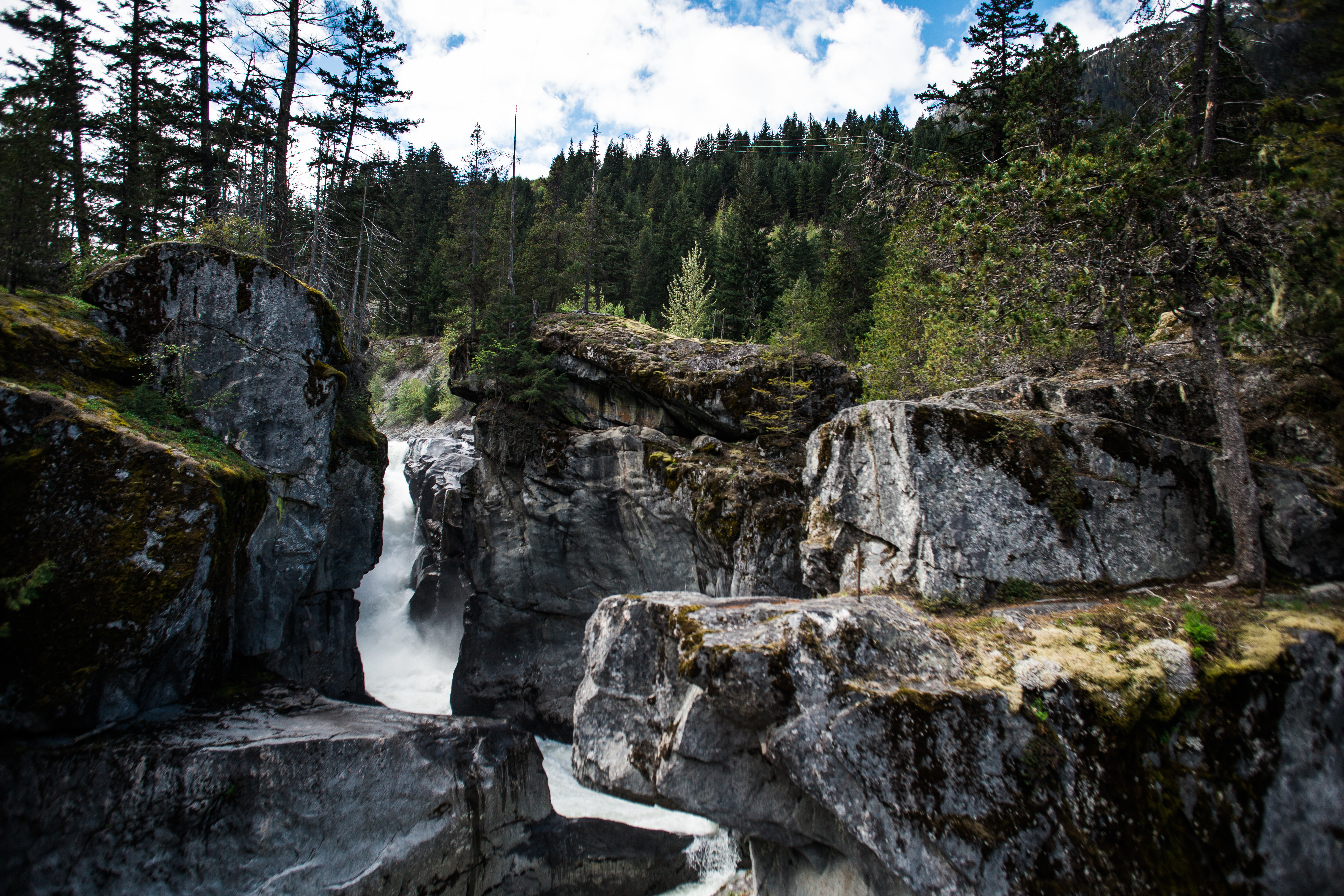 Next on the list was Brandywine Falls. Brandywine was the most tourist-laden of the falls we visited, but there are always ways around the selfie sticks and group photos. On a tip from a local, we headed up the path beyond the viewing deck for an equally stunning view, void of other tourists who typically turn around after they snap a couple shots of one of Canada's tallest waterfalls (number 12, actually!). After we got a better look from there, we noticed a few hikers walking up the creek to the base of the waterfall. We didn't have time left to hike in but promised we'd be back sometime for the chance to peer up at the waterfall, as its height demands, instead of looking down on it.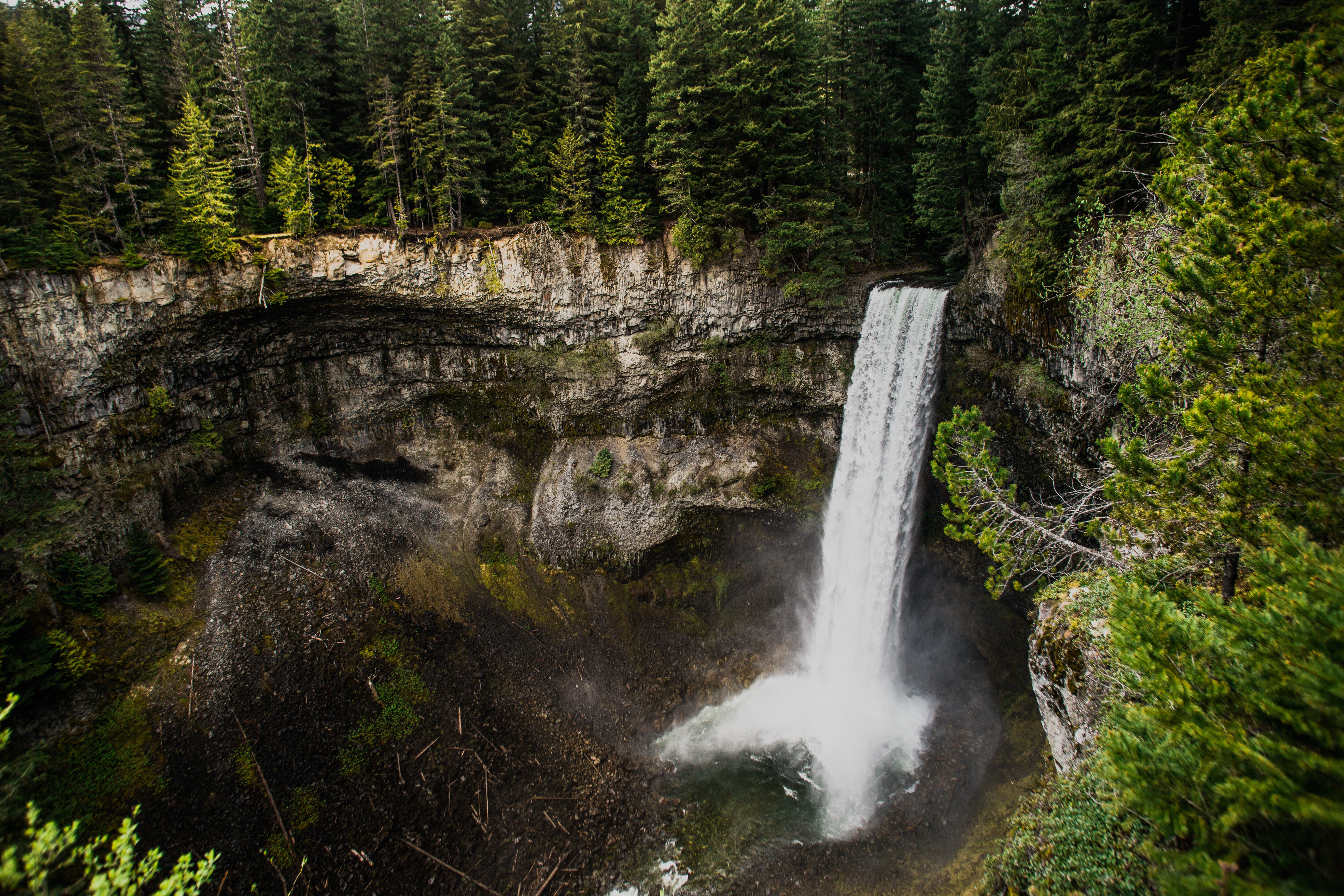 We finished up our adventures with a more off-the-beaten-path, remote hike down to what I can only call "Powerhouse Falls" in Squamish, as they don't seem to have an official name but are located right by the electric powerhouse. The hike was a bit more difficult for us to find as all we were equipped with was a hand-drawn map and the seat of our pants. We first headed up the bike trails for about 20 minutes before realizing we were definitely walking away from the rushing water sounds we heard from the gravel "parking lot" where we started. So, we did what no one likes to do, and turned around. We saw the path that our map described and had a laugh at ourselves for being such space cadets before headed down the goat path to the falls. This hike was less than family friendly, the altitude wasn't bad but we climbed over roots, had several missteps, and walked along edges of cliffs without barriers to get a good look at the falls.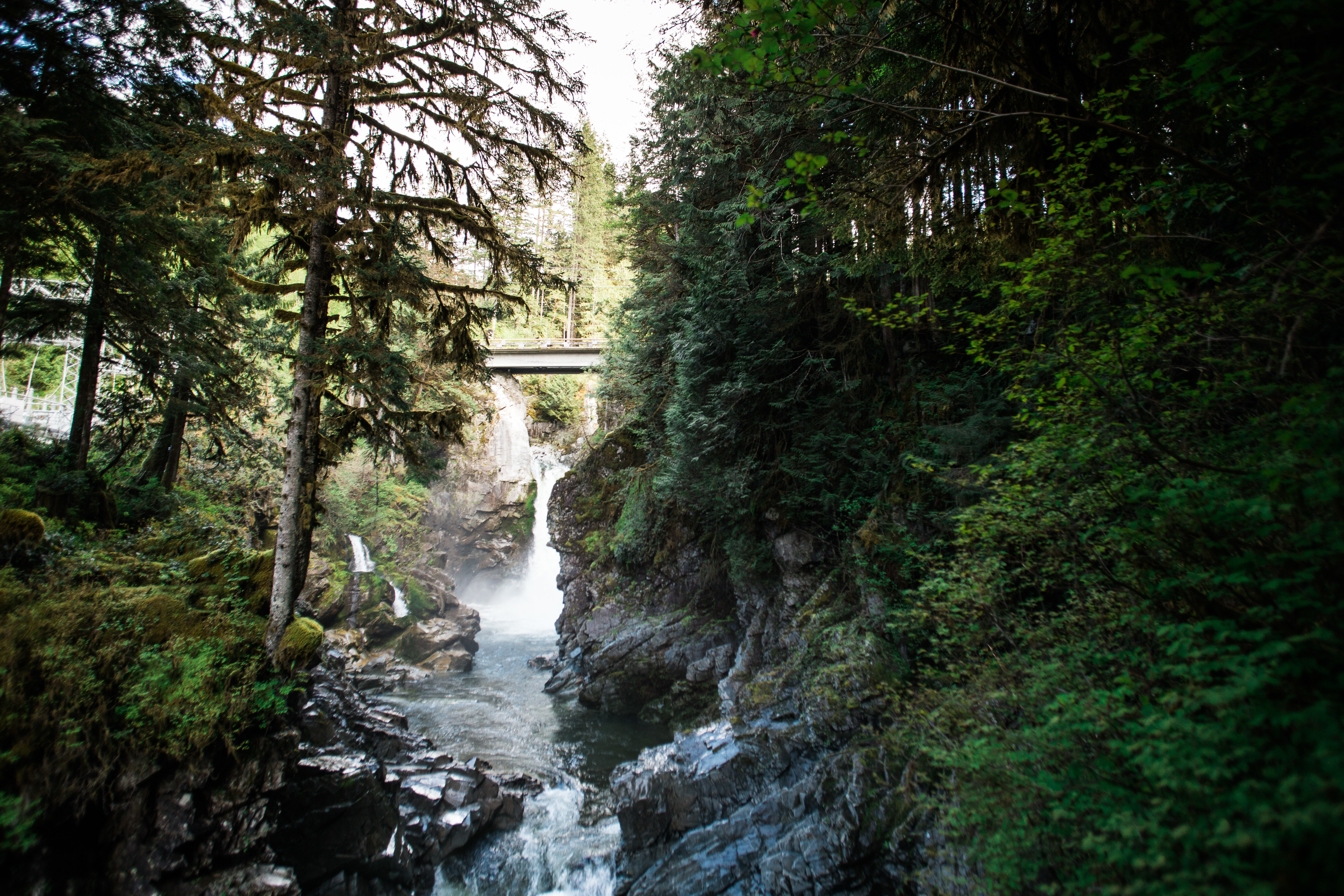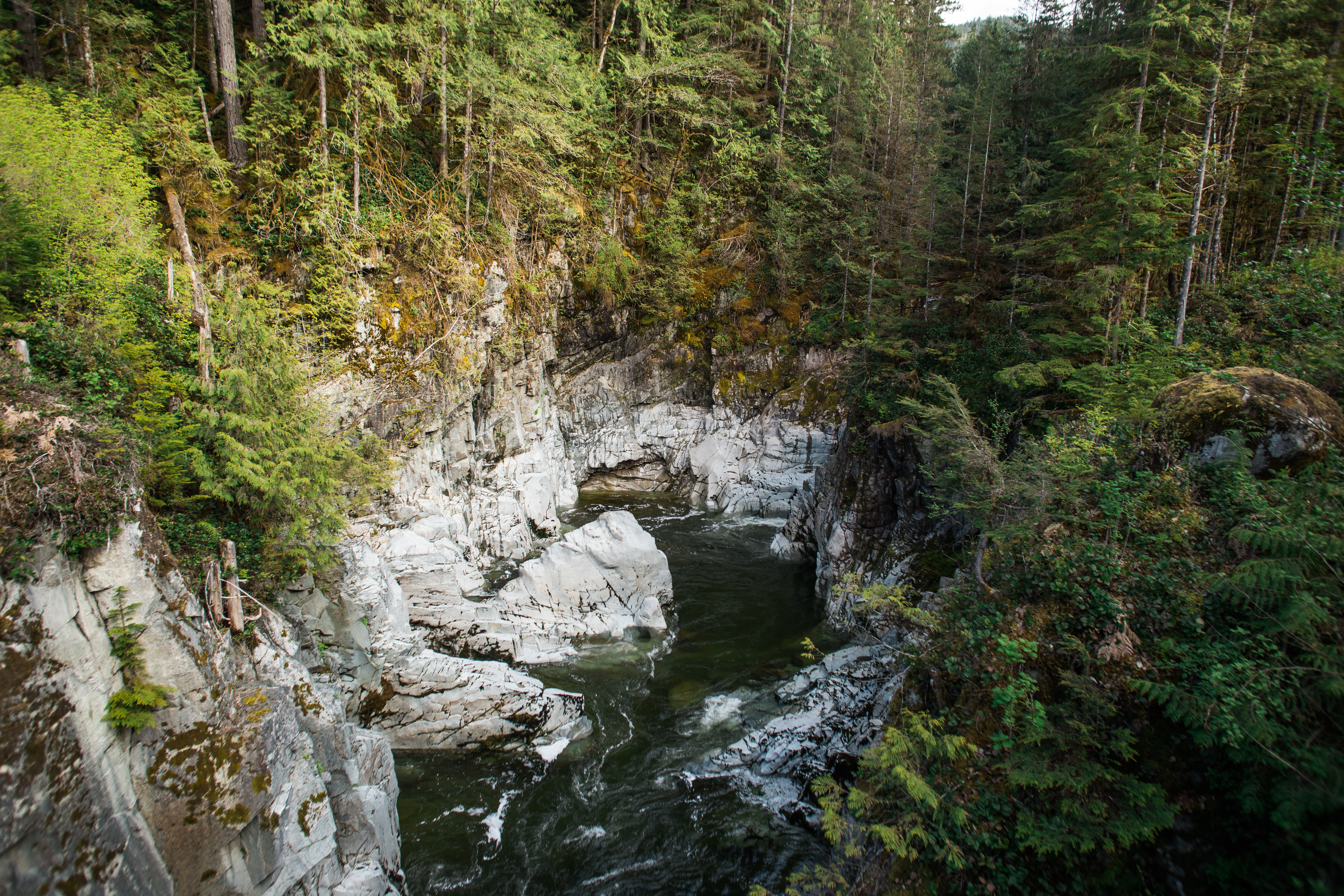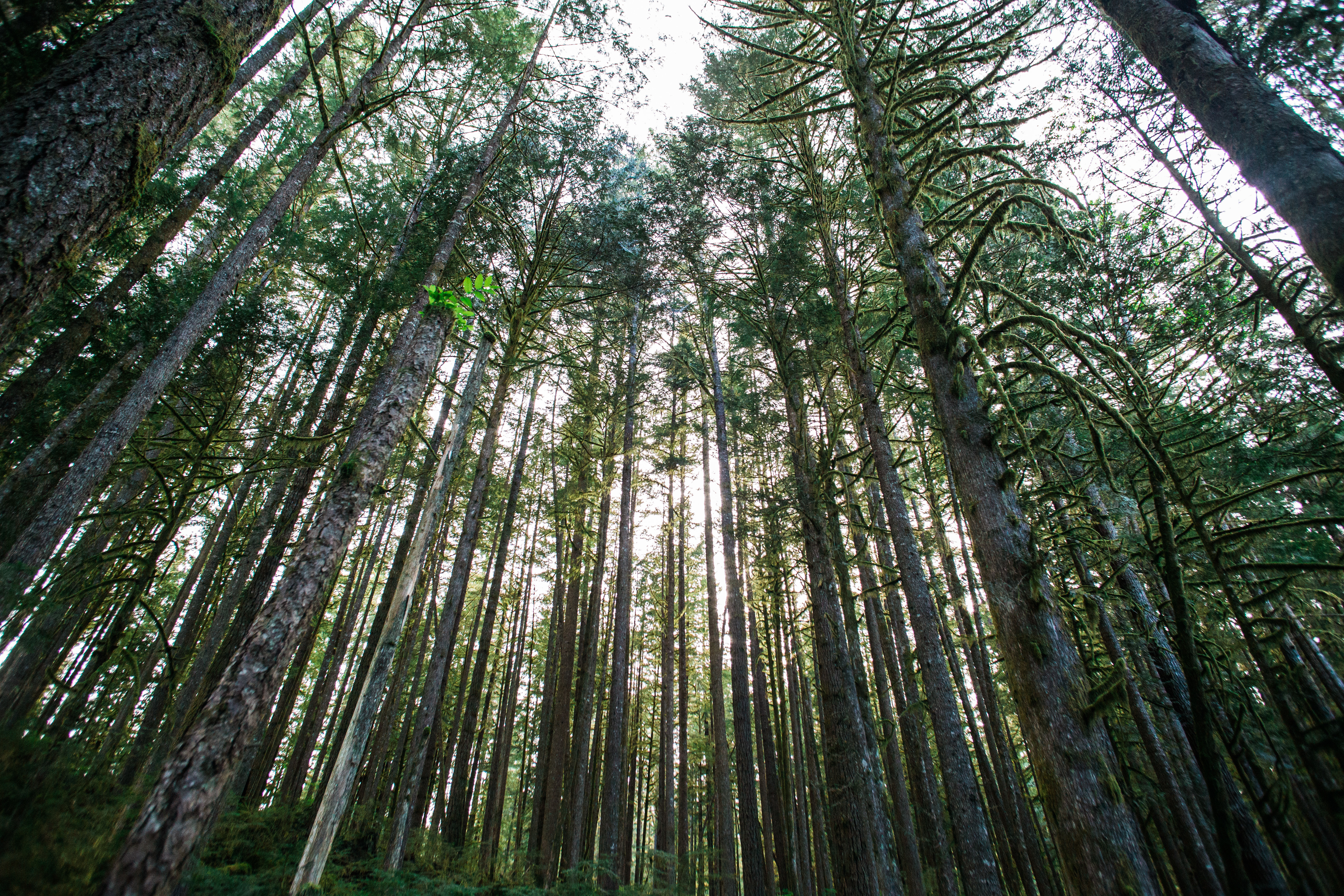 On our way out, we walked across the bridge above the falls (visible in the photo), and saw a memorial for a 17 year-old "Daniel", who died cliff-jumping in 2013. We recalled the conversation we had earlier that day at Nairn Falls, and as Sam read the 2-page description of events aloud, we were reminded of the importance of staying safe while adventuring. There is no view worth your life, no adrenaline rush worth being the last. We left the bridge humbled into silence.
Back at camp we ate more than our share of hot dogs and s'mores, and reminisced on the 4 days we'd just spent together. We admired our fire in the cool humid air and spoke of future plans for Chasing Waterfalls.