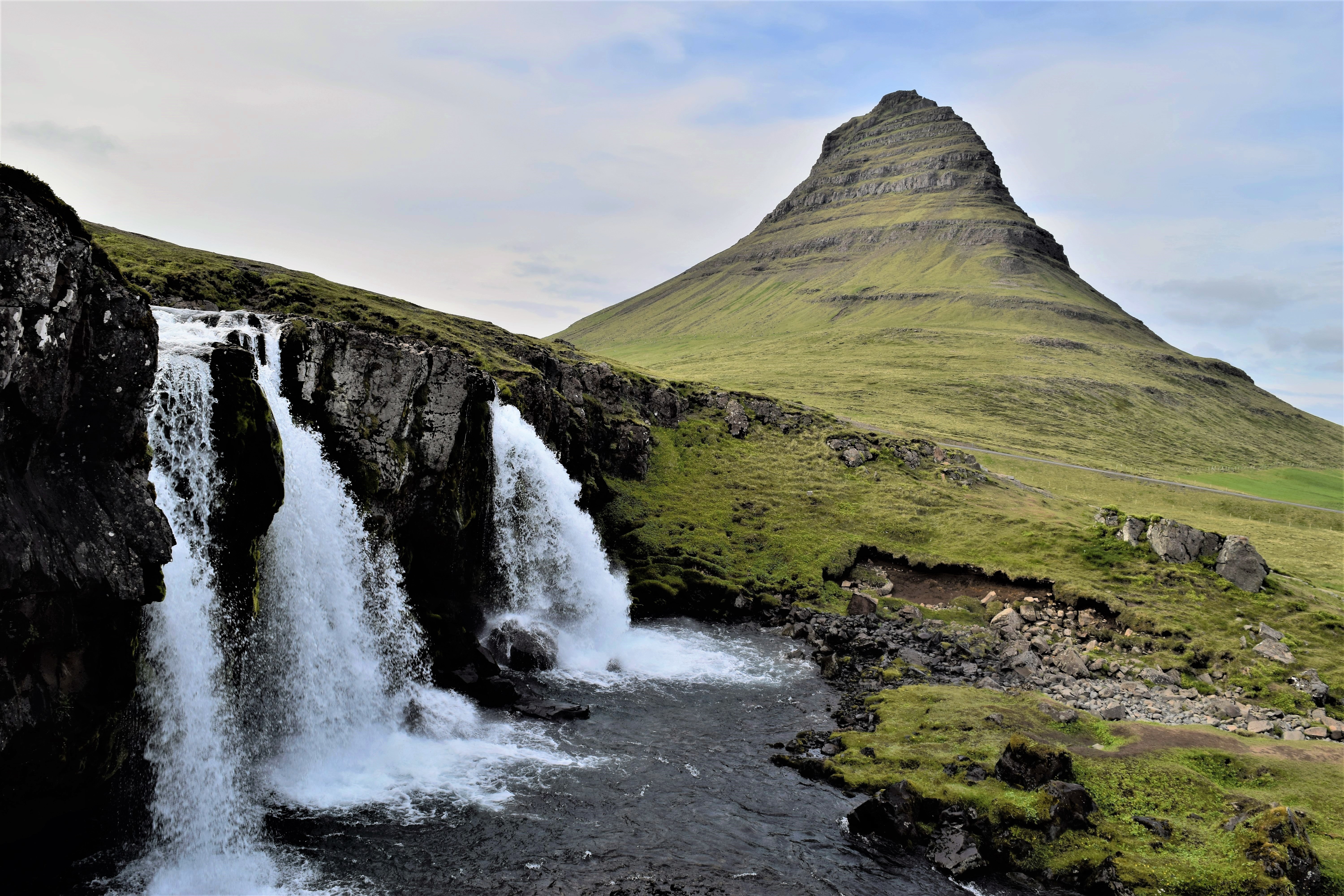 What an amazing experience! Iceland is one of the most beautiful countries I have ever visited. Iceland is one of those countries where you get to experience something unique each day, and so it is well worth a visit. So how do you get there and what should you do?
Iceland is offered as a stop over to other countries through Icelandair. They give you up to 7 days in the country, with no extra charge for your connecting flight to your final destination. This is a great option for people who would like to experience Iceland, but have limited time to do so, and are visiting other countries. The number of countries you can visit using the Icelandair stopover is limited, so check this out before you land on a final destination to see if you can do the stop over.
We chose to dedicate the whole vacation to Iceland, and so this was the only country we visited. It was definitely worth it!
We flew to the Reykjavik from Edmonton, Canada on June 8th, 2016, and came back on June 22nd, 2016. This gave us a full two weeks to drive around the country, and get in all the sights we wanted to see. Iceland is a fairly expensive country, so we went with another couple and were able to split the cost of the car rental, and accommodation.
Vehicle: We arrived at the Reykjavik airport at 6:00 am, collected our luggage and then went over to the car rental agency. We went with Blue Car Rental, which was a great option for us, as it was located at the airport. For the four of us, we booked a Toyota Rav4, which fit all our gear and ourselves comfortably. The vehicle itself was great, the only issue we had was the rear hatch door stopped worked 4 days before we had to return the vehicle. I emailed Blue Car Rental to inquire about this, and they said not to worry about it, so off we went! When we returned the vehicle, it took only 5 minutes for them to inspect it and sign off, which was nice!
Phone: When we landed in Iceland, we knew we would need some sort of connection to the outside world through our phones. To do this, we bought a SIM card while still in the airport. There is a little duty free store right next to the baggage claim area where we were able to pick up the SIM card from a company called Nova. This SIM card gave us 1 GB of data, which was perfect for our 14 day trip. I would recommend buying a SIM card if you are planning to do the ring road, mainly for peace of mind if anything goes wrong. As I mentioned above, we had to email Blue Car Rental when the back hatch door wasn't working – we were not in a place with wi-fi when this happened, so it was great to still have access to email.
Blue lagoon: From the airport we headed over to the Blue Lagoon. We had booked our arrival prior to coming to Iceland, and therefore had a timeslot in which we could arrive. Going first thing in the morning was ideal because it was slightly cheaper, and less busy. I have read elsewhere where others have said the Blue Lagoon is overrated. While I can see it getting very busy, I do think it is worth your time. The Blue Lagoon is generally people's first experience with geothermal pools, and it is as beautiful as it is relaxing. We spent 3 hours there before heading to the city. If you are planning to visit Iceland, I would recommend the Blue Lagoon!
Accommodations: Accommodations for our trip were mostly AirBnb's, with a couple of hotels. Hotels are fairly expensive (over $250), and so we found AirBnb's fit into our budget nicely. For 4 people, we usually got two double beds (one being a hide-a-bed), a full kitchen, bathroom, and living room. We never felt cramped in any of the accommodations, even though some were fairly small. In preparation for this June trip, we had our accommodations booked by the December/January prior. Iceland has limited accommodation, and unless you are planning to camp, you will need to book places in advance.
Sights: Each day we travelled about 2 – 3 hrs, counterclockwise around the island on the ring road. We were able to hit some of the main sights, including: Skogafoss, Seljelandsfoss, the black beaches, Dyrholaey, Hengifoss, Godafoss, Krikjufellfoss, Glymur, a puffin cruise and whale watching. We also ended with the golden circle, which I would recommend for those who do not have a lot of time. You can do the golden circle in one day, and hit all the sights. This travel timeline did not feel rushed, and were able to enjoy our time at each stop. If you would like me to post our actual day-by-day itinerary, please let me know!
Food: The food in Iceland, like other things, is also fairly expensive, especially if you plan to eat out most of the time. Because we had known we would be staying in AirBnb's, we planned on bringing breakfast and snacks with us. When we first made it to Reykjavik after the Blue Lagoon, we stopped at one of the many "Bonus" grocery stores and stocked up on oatmeal, yogurt (for that night), pasta, and car snacks, including pretzels, popcorn and chocolate (it wasn't the healthiest period of my life). Throughout our travels around the ring road, we stopped at other Bonus grocery stores a total of 4 times to restock our food.
Experiences that I would 100% recommend!
One of the coolest experiences from this trip was our trip out to the Silfra Fissure, where we were able to snorkel with Arctic Adventures. The Silfra Fissure, located in Thingvellir National Park, is a unique rift between two tectonic plates; the North American and Eurasia plates. The depth that you can see is farther than most other locations on the planet, thus you are able to see all the way down to the bottom most of the time, through extremely blue water. It is important to note that the water is not warm! It was about 2 – 4 degrees Celsius, but the tour group provides insulating wet suits, and the only area touching the water ends up being your face. Despite the cool water, it was one of the best experiences of the entire trip!
Another recommendation I would make is the Glymur waterfall hike. This hike is only about a 40 min drive away from Reykjavik, and has many fun obstacles to overcome. The beginning of the trail starts out smooth enough, it is labelled well so there is no chance of getting lost. After about 40 minutes, you will reach a cave, which you will walk down through (it is very short). At the bottom, you will walk along the river and come up to this log bridge with a cable running across the river. This log bridge is the reason why the hike may be seasonally closed, as at different points throughout the year it will not be safe to cross the log. However in the summer months it is open and fairly easy to cross. Just hang on to the cable and walk over it with stable footing. From this point on, the hike gets steep. When I researched this hike, I had seen that some individuals described it as a scramble. While this is accurate, there is rebar with cables to hang onto during the very steep areas. If you take your time, you will be okay. After about another hour or so you will reach the bottom lookout point for the Glymur waterfall. It is absolutely stunning, and well worth the effort. To get a better view, you can walk up to the upper lookout point just 5 minutes away as well. Overall I would estimate 3 – 4.5 hours for this hike. We did it fairly quickly, but I can see it being slower if it is raining out. Please take your time and make sure your footing is good on the way up, and you won't have a problem!
I hope some of my information can help you while booking your trip. As I said above, Iceland is one of the most beautiful countries I have ever visited, and I cannot wait to go back. I hope you find the same value and experiences that I did!     See More! The Successful Introvert